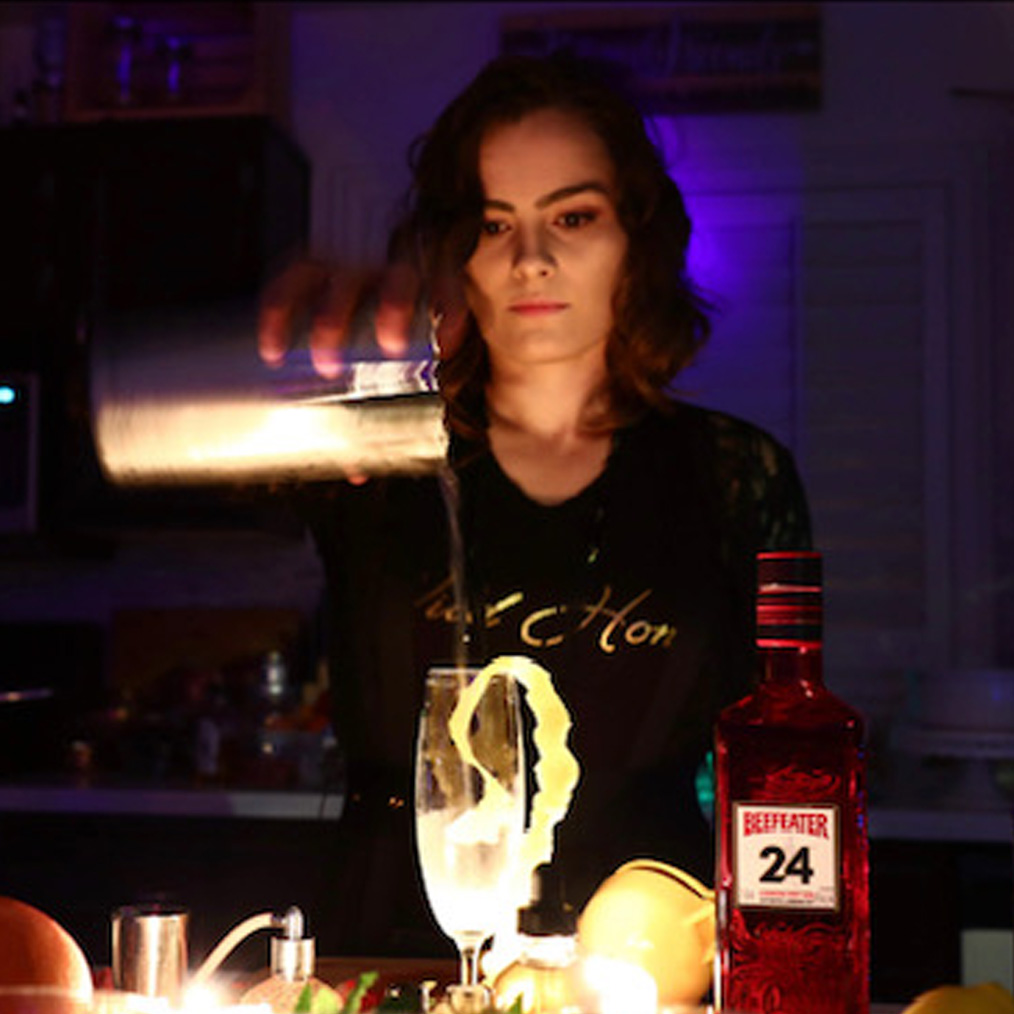 Sarah Perrells is the Bar Manager and Mixologist at the Temple Bar in downtown Hilo Hawaii. 
Born and raised in Mt. View, Hawaii, entered HCC culinary program in 2010. She graduated on the Dean's list in 2012 then eagerly started her culinary career in Las Vegas. She was thrown into the fire as a very green culinarian at top restaurants, Le Cirque and Circo of Bellagio. Working for two fine dining restaurants simultaneously taught her speed, organization, and elegance. The professionalism intrigued her. 
Sarah was then asked to work in the bakeshop of Mandarin Oriental. There she learned the basics of baking and production on a large scale. Within five years, she moved her way up from banquets, restaurants, cake decorating to a Sous Chef position, learning the art of chocolate, sugar pieces, and fine patisserie. 
After being offered an Executive position, she decided to do a career change. Going from Pastry which is flavor combinations, measurements, and elegance, to Mixology and Bartending, seemed like the right transition. 
Sarah had to start at the bottom again at The Wynn Las Vegas. Bartending at 25 outlets in a world-renowned hotel, each outlet having its unique specialty cocktails, there was so much to learn. While working at all the restaurants and outlets, she experienced not only working with hundreds of colleagues but also with guests from all around the world. 
A few years later, Sarah found herself back in Hilo, Hawaii. She spent some time in a local restaurant back in the kitchen, having the freedom to create once again. Yet she still felt like something was missing. Sarah discovered the Temple. Her creativity exploded. Sarah brought something Hilo town needed, fine craft cocktails, excellent service, and professionalism. She not only customizes you're cocktails but also ensures you have a memorable experience. 
Sarah is proud to be a part of the best restaurant and bar in Hilo, The Temple. She is striving to be better every day. She manages a strong team of bartenders and servers, introducing new techniques, flavors, and tools for success. 
Outside of work, Sarah spends lots of time in nature with her dogs. She finds inspiration and peace on adventures to secluded beaches, cliffs, or quiet walks in the forest. 
Ending the day with dirty martini and a good book.